Over 35 years expertise.
Every student we teach has the knowledge to potentially save a life. We take that seriously!
AEDs save lives!
Aeds are proven to be the biggest factor in survival after cardiac arrest.
We have priced them to make them more accessible.
Our custom AED packages cost LESS than buying a stand-alone unit at other sites!
If you are considering purchasing an AED device for your workplace, we can help you decide on which unit is best for you. We work with EMS Safety Services to help provide our clients with options and equipment to keep your workplace safe and compliant. All AEDs are available as a package including the wall cabinet to make it visible, the rescue kit bringing you the tools to assist in using it, and the check tags to ensure readiness. All AEDs include 1 year of Medical Oversight which can be continued as an annual subscription at your option.
AEDs are only a benefit if they are ready to go and people are willing to use them. Titan CPR Associates can help. Every CPR class includes AED familiarization to keep your staff confident to use it.
We can also provide routine inspection and updating of batteries and patches to keep your unit ready to go. Contact us for details, pricing starts at only $55/unit.
Can you afford NOT to have an AED?
Newest and Best- ZOLL AED 3 
Provides CPR feedback and touchscreen with rescue image prompts to support the rescuer. Wi-fi connectivity for maintenance and device readiness reports. One set of pads and one machine for adults and children.
AED3 package with Wall cabinet-       $2160
AED3 only-                                             $2050
Lifepak CR2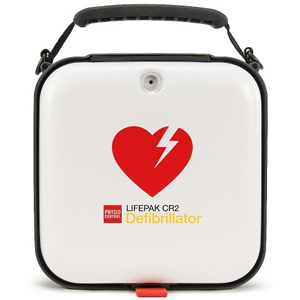 Philips CR2 has multiple advanced features for ease of use. Clear voice instructions, and selectable child mode, using the same pads. English/Spanish selectable voice available also. Wi-Fi connectivity for self-monitoring, and long-life pads and battery.
AED Only- $2081
Business Package- $2315
English/Spanish Selectable- $1900
AED only-

Includes New AED, Pelican Carry Case, Response kit, Check tags, and 1 Year of medical Oversight

   

$1593
Business Package-

adds a wall cabinet  in place of case and wall sign

$1593
School Package-  Business package plus Pediatric pads           

$1652

ZOLL Medical AED-Plus

                                      ***Lowest cost to maintain***
AED only-

Includes New AED, Response kit, Check tags, and 1 Year of medical Oversight

   

$

1699

               
Business Package-

adds a wall cabinet and sign

 

$1825
School Package- 

adds pediatric patches

$1925

Cardiac Science G5

– Choice of wall cabinet or rigid carry case.

Includes New AED, Response kit, Check tags, and 1 Year of medical Oversight                                               
G5 Package With wall cabinet       

$1850
G5 AED Only With rigid carry case        $1850
350p AED only-

Includes New AED, Response kit, Check tags, and 1 Year of medical Oversight             

$1262  
350p Business Package-

adds a wall cabinet and sign

                     

$1357  
350p School Package- 

adds pediatric patches

                               

$

1593

 
450p AED only-                                   

$1388
450p Package                                       

$1512
450P school Package                         

$1689